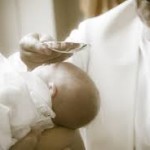 "Go, Therefore, And Make Disciples Of All Nations, Baptizing Them…"
I take our Lord seriously when He says in Matthew 28:19, "Go, therefore, and make disciples of all nations, baptizing them in the name of the Father, and of the Son, and of the Holy Spirit . . .."
When He says all nations, I believe that means you, me, and your loved ones too. So, if you are looking for Pastoral service and support, regardless of whether you're attached to any particular church, you may be in the right place.
I perform baptisms for "all nations" as a Pastor On Call. As you know, Baptism is perhaps the most important Sacrament in Christianity.
Its through the act of Baptism that you, your child, or loved one is Named, Claimed and Called by a loving and gracious God. It's through the act of Baptism that God's unconditional love is confirmed.
This is the Ceremony that prepares a person for all of the love and grace that God has to offer in both life and death. Once baptized, one will never be forsaken.
Whether it takes place in someone's house or their backyard; whether it's a baby or an adult, sprinkled or dunked, in flowing water or standing in a pool, the importance of God's presence in one's life is proclaimed in the name of the Father, Son, and Holy Spirit!
If you or a loved one are ready to be baptized, the Baptismal Service I am able to perform for you includes the Preparation, the Ceremony, the New Birth Candle, Baptismal Napkin, and the Certificate: We can do this indoors, or outdoors, a formal service or an informal format. Your fee is $100.00 and I am able to perform a Baptism for people of any age.
I look forward to speaking with you and helping you grow in your relationship with God.
Please contact me at 630-835-9359 to discuss your request for Baptism.
Eric Dawson
Pastor On Call