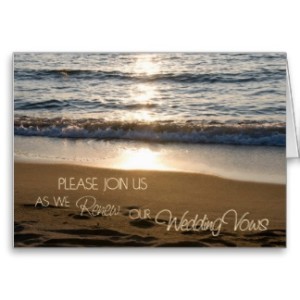 What A Better Way To Say "I Do" Than To Say "I Do" Again.
Vows Renewal is a truly beautiful way to express your ongoing love, and a great way to bring people together to celebrate your unique God given blessings.
The Renewal of Vows Ceremony is an extraordinary opportunity to celebrate the ongoing love and commitment of your marriage relationship. As Husband and Wife, you proclaim the same love and commitment as you did on your wedding day.
By Renewing Your Vows, you proclaim the ongoing trust and sacrifice needed to make your marriage relationship work. When you engage in the Renewal of Vows you restore the same joyous spirit of cooperation that occurred at your original wedding.
The Ceremony I provide can be like your original wedding or something completely new.   The fundamental process I typically engage in consists of the Processional, a Welcome, and Prayer.  I do the Readings and I give a short Talk. You will then Re-Exchange your vows and your rings, followed by a few Words of Blessing.  I'll finish with Prayers/Lords Prayer and Announce to those present, your renewed relationship as Husband and Wife
Whether it takes place at the location of your original wedding or someplace else; a front porch or a backyard barbecue, celebrating five years or fifty years, the importance of stressing God's continued involvement is proclaimed in the Promissory Words of Re-commitment between Husband and Wife!
A truly unique way to Renew Your Love, Give The Gift Of Love, And Show Those You Love, That Gods Love Is Real.
I enjoy performing this Service because it brings so much joy to everyone, especially when two people can renew the ideas and dreams that brought them together in the first place.
I usually receive $150.00 for the Service, which includes the Ceremony, and Rehearsal (if necessary), along with a Certificate Of Renewal. So let's talk! I am ready to answer your questions, and hear about your plans; call me at 630-835-9359.
Eric Dawson
Pastor On Call